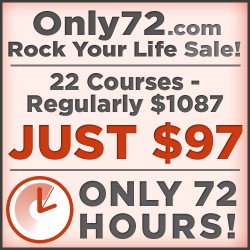 This is a deal you're going to want to jump on.
As I mentioned in my last post, last year I was lucky enough to get in on the Only 72 sale that focused on online business. What I learned from that set of ebooks–and the people they connected me with–has been invaluable.
This time around, the focus is on personal development. I know that by the time you're reading this, I'll already be eagerly flipping through the titles that are listed below.
Why? Because the deal is too good for me to pass up. There are ebooks and programs from 25 different authors, totaling nearly $1100 if bough separately. All that for only $97? Who can pass that up?
Still want more info? Here's the list of what you get:
Focus by Leo Babauta ($35)
The full version of the book, including bonus chapters, in PDF, EPUB, and AZW
An email fast guide (PDF)
A decluttering quickstart guide (PDF)
A guide to changing habits
3 Audio Interviews
5 videos
Living the Good Life (PDF)
Email Triage (PDF)
Premium Planners Set
Reclaim Your Dreams – "Everything Package" (70-page PDF)
"I'm Serious About Action" Worksheets (30-page PDF)
52 emails, each with a tidbit to learn and a mission to accomplish
A 128-page workbook (PDF)
Pace & Kyeli's best-kept secret to living an awesome life
133 totally NEW 5-ingredients recipes
Colour photographs of every recipe (343 pages)
50 videos
Rebel Fitness Guide (40-page PDF)
Rebel Diet Guide (35-page PDF)
Rebel Food Fighter (60-page PDF)
6 Separate Workout Exercise Books
Fear-Crushing Travel Guide (113-page PDF)
7 Fear-Crushing Travel Worksheets
10 Audio Interviews with experienced world travelers
Bonus: The Master Travel Preparation Tip Sheet
Overcoming The Fear of Uncertainty Guide (15,000 words)
Using Mint.com to Change Your Life (7,000 words)
Ultimate Guide to Starting a Blog
5 Interviews, including Chris Guillebeau and Pam Slim
Worksheets, review sheets, questions, answers, and a remote work agreement template
Mapping Your Project: The Big Picture and the Details (22-page PDF)
Game Plan: Spark to Business (36-page PDF)
Balancing Life and creativity (26-page PDF)
7 interviews
Resource Directory
65 Jump-leads for your creativity
Make Sh*t Happen (80-page PDF)
Workbook of all exercises (Google Docs)
Language Hacking Guide in PDF, ePub, Mobi, and printer-friendly
Full translationss of the guide in 23 different languages
Worksheets, also translated
Almost 3 hours of audio interviews
Lists of free resources for practicing any language
Sex, Love, Liberation: A manifesto for the bold at heart (61-page PDF)
Sex, Love, Liberation Workbook (29-page PDF)
Learn More, Study Less (200+-page PDF)
6 bonus printable workheets
How to be Rich and Happy (215-page PDF)
Don't Ask Stupid Questions (94-page PDF)
Don't Panic! A Practical Guide to Dealing with Fear, Anxiety, Panic & Public Speaking (45-page pdf)
16 Ways to Destress Your Life (34-page pdf)
25 PDf modules (96 pages, 38,000+ words)
Better Communication Workshop
Brilliantly Better Collection

by Dragos Roua ($43)
Natural Productivity (156-page PDF)
100 Ways to screw up your life (109-page PDF)
100 Ways to improve your life (108-page PDF)
30 Sentences for a millionaire mindset (96-page PDF)
How to Become An Advanced Early Riser (66-page PDF)
Success Log to track your progress
4 MP3 audio downloads
Quick start guides
52 weekly emails of ideas for free or very cheap fun
52 short, entertaining videos
The Art of Relaxed Productivity (98-page PDF)
The Power of Positivity (132-page PDF)
Quick Start To Relaxed Productivity Audio Guide (MP3) + 5 more audio files
The Ultimate Guide to Motivation
2 Workbooks
Audio Transcripts
Discover Your Passion (116-page PDF)
The Bold Living Guide (46-page PDF)
Coaching Works (10-page PDF)
Life 101 Master Course (9-page PDF)
Mind Control Method (37-page PDF)
5 MP3 audios
Sell Your Crap (67-page main guide PDF)
The Definitive Step-by-Step Guide to Selling Your Crap on eBay (171-page PDF)
The Definitive Step-by-Step Guide to Selling Your Crap on CraigsList (49-page PDF)
The Definitive Step-by-Step Guide to Selling Your Crap on Amazon (41-page PDF)
10 Video Interviews with Anti-Clutter authors and bloggers, including Leo Babauta, Chris Guillebeau, and J.D. Roth
Impressed yet? I was when I saw that list.
The sale's only going on until Thursday–just 72 hours (like the title says). After that, there won't be a way to get a deal this good and you'll be stuck shelling out full price for whatever books you want.
Much better to buy now and get the best deal around.
Then dig in and rock your life.