Yesterday I picked up the bunch of personal development courses being offered by the crew over at Only72.com. I have not been disappointed in the quality of work they've pulled together from 25 different authors. (Check it out and get your own bunch.)
There are three that have really stood out (so far), at least in relation to what I talk about here… so I thought I'd share some quick reviews.
Sex, Love, Liberation by Ev'Yan Nasman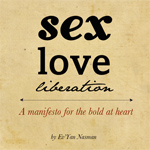 This is a fantastic collection of thoughts and observations all tied together with a beautiful call to action: Be proud of who you are and what you love.
As Ev'Yan says right on the cover, this is a manifesto. The suggested rules to live by–with an open and honest heart, an soul primed for exploration, and a voice full of joy–serve as reminders that are, sadly, too often needed in today's wild and often crushing world.
Even better, there's a workbook packaged with this that gives you all the prompts you need in order to build your own manifesto. So first you're given inspiration, then permission and the tools to take action. Really can't beat that combination.
(And if you get it as part of the Only72 deal, you get it before it's actually available to the rest of the world.)
See more from Ev'Yan over at SexLoveLiberation.com.
The Less Work, More Harmony Relationship Guide by Cara Stein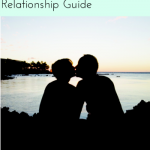 If you're looking for something less inspirational and more practical, this is the course for you.
It's packed with good, solid information about communication and relationship dynamics that you may not be aware of. Looking for a better way to talk about difficult topics? It's in here. Want to liven up your relationship a little? There are tips for that. How about ways to bring a relationship back into balance? Yep, that too.
Everything in this course is organized by easily accessible topics via a browser interface–so you literally click through your questions to the answers. Those answers deliver, too. I know I learned a thing or two (and was reminded of many more) as I read through the content.
And if you want something even more in-depth, Cara has included a special discount code to "upgrade" to the more intense version of the course–complete with worksheets and exercises to help you put into practice all of the concepts she discusses.
Get this as part of the Only72 special deal.
See more from Cara at 17,000 Days.
Reclaim Your Dreams by Jonathan Mead
This is a more general guide to taking control of your life, but I like what I've read so much that I really want to recommend it to a whole lot of people.
There is fantastic instruction here for unbrainwashing yourself (basically unlearning a lot of bad habits and artificial limitations that you've learned). That in and of itself should help give you better relationships with other people. I know it's a topic I work with a lot (even if I haven't written about it a lot, yet).
The exercises are clear and direct. The points to meditate on are good, solid, things to think about. The writing style has just the right amount of fun mixed in to keep it interesting and to let the deeper insights sneak in. (I'm a big fan of things that make you chuckle a bit and then stop as something profound suddenly hits you.)
Buy this as part of the Only72 package and get access to a more intense "home study" course based on the currently unavailable in-person coaching Jonathan does.
Read more from Jonathan at Illuminated Mind.
So, there's three big reasons to get this collection of courses and books. The normal prices of these three courses alone add up to what you'll pay for a full 22 products. And I can assure you, if any of these three are to your liking, you'll find more that are useful. (Heck, the cook book in the bunch is absolutely fantastic–so if you like to eat, you're covered!)
If nothing else, just go and check out the full list of what's in the package.
Oh, and one more thing: $5 of every sale gets donated to Cath Duncan's KidneyRaffle.com project. Cath's "Team Juggernaut" is raising $45,000 for much needed support and research to the Kidney Foundation. If that's not a little more incentive, I don't know what is.