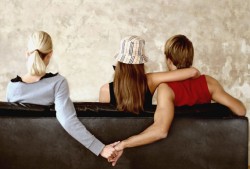 Over at FeelGooder.com, there's an interesting article that came up about Emotional Affairs. You should go check that out.
I think it touches on one of the key issues that I've seen destroy a lot of relationships. The lack of connection that makes the heart begin to wander always leads to a breakdown in communication. But in order to actually do something about it, you need to be aware that it's happening.
Sure, falling for that new person while you're in a relationship may just be due to some overactive hormones. Maybe they're just plain interesting and you get caught up in the feeling of those first few moments of a crush.
Like any crush, though, you need to be able to step back and take stock of the situation. You need to be able to clearly ask the five key questions about yourself (you know, the ones you should always have close at hand if you're trying to be the most true to who you are). If you're already in a relationship, and therefore rightfully concerned about falling into an emotional affair, you need to focus heavily on question five: How would you describe your ideal mate?
Reality vs. Fantasy
Once you have your answer to that question, you can address the difference between the relationship you're in and the one you're being tempted by.
Is it only an emotional attraction? More importantly, is it a real emotional attraction? When we first meet someone, when they're still a stranger and we know nothing about them, our minds fill in the blanks with all sorts of things. Most of them aren't true and never will be.
Very often, we feel more open with a stranger than we do with our significant other. Especially if there are problems we're dealing with that center on that relationship. (The fact that you're not communicating openly and fully with your significant other is one of those big red flags that the relationship is in danger of failing–either because of one of the people involved not doing their part to communicate or because you no longer have the connection needed to make the effort seem worth it.)
Take stock of what's attracting you to this new relationship. What does it offer that your current one doesn't? What do you think it could offer that your current one doesn't?
Weigh the results of that bit of introspection. Then head home, alone.
Always Talk It Out
If you're currently in a relationship, cheating, emotional or physical, is–and should be–a big deal. It's a breach of trust. And trust is one of the key building blocks of any good relationship.One of those other building blocks is clear, open, and honest communication.
So, after you've looked at this new person who has your head swimming or that you feel more connected to, after you've weighed the difference between the potential relationship with them against what you already have, go home and talk to your current significant other about it.
And do that before you do anything else.
Cheating only happens if you let it. And once it happens, it's not something you can take back… or ignore.
Yes, you may be able to fix what's wrong in your current relationship. To do that, your partner needs to know there's a problem to begin with.
But you also may find that the relationship your in has run its course. That you and your partner have grown in different directions. That they've been feeling the same way you are.
It may turn out that it's better for both of you that the relationship comes to a peaceful and mutually agreed upon end.
Much better than having it end in an argument brought about by being caught cheating.
What Then?
Even if you do decide to end the relationship you're in, you're still left with the question of whether or not to pursue this new crush.
Regardless of how it starts, once you're aware that there's potential for something relationship-wise, play by the same rules you usually would for dealing with any Grown Up Crush. Go in with your eyes and mind open, get to know the person–and yourself with them–before going full in, and always keep those lines of communication open.
Is that potential emotional affair participant your One True Love? No, probably not. But he or she may be the next step in your ever-growing self-awareness. They may be the next really good thing in your life.
Of course, life isn't a story book, so it could also turn out to be a lesson in being able to better appreciate what you had… not the most pleasant lesson to learn, but one we all get taught at some point. Still, better to do it on your own terms and in the open than sneaking around behind the back of someone you're still purporting to love, right?
Talk to me: What's your experience been on either side of the "cheating" situation, emotional or otherwise?