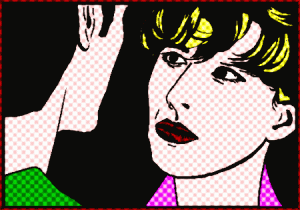 After last week's post about how to tell someone you have a crush on them, I was met again and again with two major questions: Why not just ask them out? and Why tell them?
The first I answered a while ago here. In a nutshell: dating isn't something everyone enjoys doing. At least not dating or asking out everyone you have a crush on. If you have half a clue, you'll be able to tell that some people just wouldn't be good for you–or you wouldn't be good for them. Others may be perpetually unavailable for one reason or another (say, married or stationed overseas or not interested in someone of your gender). Still others you wouldn't be good for.
Who you fall for can't really be helped. What you do after you've fallen for them… well, you have a lot more control over that. And by asserting that control, you gain more.
So that's why you wouldn't just ask them out, but why tell them?
1. Because you need to
Secrets build up within us. Ones backed by strong emotions can really begin to eat away at our insides. A persistent crush can very quickly grow into an obsession–turning from a healthy bit of fun into a full-on destructive crush. Much like an old boiler, every now and then a little steam needs to be released in a controlled manner to keep the whole thing from exploding in a bad way.
Just saying the words: "You know, I think you're pretty awesome" or something else that won't raise a whole lot of "OMG do they like me in that way?" panic can help. If not, then you may have to be a little more explicit and follow all the rules laid out in the previous post. Chances are if you don't say something, you'll get to the breaking point and do something reckless that could cause more harm than good to any relationship you have or could have with your crush–including friendship.
If you've started to spend all of your time thinking about your crush or find it very difficult to fight off urges to do inappropriate things (like suddenly planting a big, wet, kiss on their lips in public), it's probably time to assert control and conduct a measured release of that built up tension.
Amazingly, the act of declaring a crush can sometimes make it just kind of go away.
Note that this isn't always the best reason and can be used to justify a good many fully self-centered and malicious actions. Before you decide this is the reason, be sure to have exhausted the others.
2. Because everyone already knows, anyway
Most of us aren't anywhere near as subtle as we think. If you're crushing on someone hard enough, chances are people are going to notice no matter how hard you try to keep it under wraps. Once people start to notice, it becomes more and more a waste of energy hiding it.
This is especially true if the person you're crushing on has noticed. Doubly so if he or she is made uncomfortable by it.
Honesty is a key factor in any healthy relationship. If you have a crush on a friend, but don't plan on pursuing any actual romantic activity with them, you should be able to tell them that. Especially under the above-noted circumstances of everyone already knowing.
3. Because you think the feeling may be mutual
If you've been paying attention to your own emotions and are aware of how those around you act toward one another and toward you, chances are you'll eventually notice someone who has a crush on you. You don't have to call them out on it, but if you've got a crush on them, too, it may be something worth discussing.
Many times those just-below-the-surface feelings can cause a little bit of friction. Even if they don't cause as many problems as the "heading toward destructive crush" kind mentioned in reason #1, it can make working with someone a bit awkward. Telling them may not make it any less awkward–it may even have the opposite effect–but a good-faith effort to put all your cards on the table and talk it out with them could make things run a whole lot smoother.
Note that this isn't bringing it up in the hope of dating them. (We'll discuss that in a minute.) This is, again, honesty and communication among people who already have a relationship of some sort going on.
4. Because it's a hell of a way to meet someone
This one is only tenable if you're crushing on someone you don't know and don't have an interest in dating them. With no pre-existing relationship, you can be pretty direct as there's most likely not much to lose. Most of the time, they'll think it's just you hitting on them, working your way toward asking them out. If you can clearly communicate (and illustrate) that that's not the case–if you can tell them that your take on how awesome they are isn't just sexual or a means to a carnal end–you'll make a lasting impression.
This can, of course, backfire. People just aren't used to receiving blatant, honest compliments from strangers who expect nothing from them in return. If you continue to see this person, they may spend weeks or months wondering when you're going to drop the platonic act and ask them out. They may even be offended if you don't ask them out.
5. Because you want to date them
If this is your reason for telling someone you have a crush on them, don't. Instead suck it up and ask them out (if it's at all possible–as in, they're not in an exclusive monogamous relationship and are interested in your gender). Using a drawn out "I've had a thing for you since we met…" spins up all the movie cliches that have ever been put in our heads. And if the person you've been crushing on turns you down for a date after you've worked yourself up by going, point by point, through all the wonderfully high expectations you've set up, you're going to be crushed. And that's what we're trying to avoid here.
The stories of how long you've loved them can wait that first actual date.
The Bottom Line
There are more than just those five reasons to tell someone you've been crushing on them. I've done it as a kind of social experiment, to see if people would react the way I thought they would (they usually did). Invariably, it seems to brighten most people's day… especially if the crush was long ago and can obviously not grow into anything romantic now.
Dating isn't for everyone. Taking the leap of faith to tell someone you've got a crush on them–while having no expectation of anything more–isn't an easy thing. But if you do it, you may be surprised at the results.
Have you ever told anyone you had a crush on them? What happened next? Would you do it again? What are your reasons for telling someone you have a crush on them? Let me know.