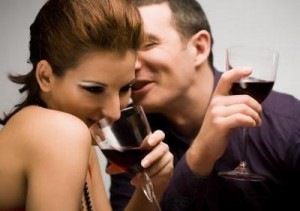 Flirting was one of those things that always mystified me.
I was always too dense to notice when it was directed at me and too nervous to carry any out growing up. In college, I was just getting the hang of flirting when I ended up in back-to-back long-ish relationships. (Still too dense to notice when I'm being flirted with most of the time.)
Since then, I've only dabbled in flirting every now and then, so I'm far from a "hands-on" expert.
I can, however, spot it a mile away when it's one person directing it at another. So that's something, right?
Instead of rambling on more than I already have, I'm instead going to point you to a nice little article over at How Stuff Works about flirting. While kind of cursory (there have, after all, been whole books written on the subject), the article touches on some important points.
At its most basic, flirting is simply another way that two people can closely interact with each other. But when you get into the intention behind flirting and exactly what flirting entails, things get much more complicated. It doesn't have to be romantic or sexual — sometimes, it's just friendly banter without any other intentions. Sometimes one person has romantic intentions and the other one only has sexual ones, or doesn't even realize that he's being flirted with. (more)
And, of course, I have to ask: Are you a flirt? Does it come naturally for you or do you have to work at it? Do you notice when people are flirting with you? How do you usually react?